Line Planting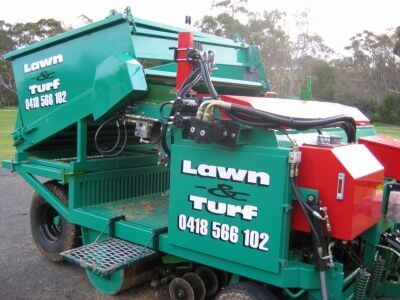 We have 2 specially modified Line Planting Machines capable of using Turf Rolls or Sprigs. We can Line Plant into Cultivated Surfaces or Poisoned Surfaces for a Total Cover or Existing Turf Surfaces for a Transitional Cover over a Two Year Period where closure of the Facility is not an option.
What is Sports Surfaces Line Planting and its benefit?
What savings would I expect to achieve by transplanting a Warm Season Grass into Park, Ovals and Golf Courses?
50 - 80% reduction in Water Usage.
100% reduction on over Sowing Costs.
50% reduction of Cutting Grass - Labour, Fuel and Maintenance.
Major improvements in overall Surface Quality.
Reduction in Fertiliser and Insect Control Costs.
Improved Recovery Potential.
Improved Surface Stability.
Workers redirected to other Tasks.
Sprinklers have extended life.
If using Pumps, they have an extended life and less Maintenance.
Line Planting is the Method used to Convert Cool Season (Ryegrass, Tall Fescue, Kentucky Bluegrass etc) Sports Surfaces to Warm Season Grass such as Couch, Santa Ana, Legend, Winter Green or Kikuyu. It offers the End User a more durable Surface for better Toll/traction and a reduction in the opportunity for Injury.
The Ground Manager's Maintenance will be reduced due to greater Wear Tolerance, lower Water Requirements and the reduction of Fertiliser/Insecticide needs due to the Warm Season Grasses.
Soil disruption is minimal and Play can continue with minor interruption. By changing to Couch you do not have to change the Soil Profile.
How does Sports Line Planting work?
The specially designed Machine Slices the Existing Surface, it Shreds the Rolls of Warm Season Instant Turf which then drops into Open Slits and falls into Slice Lines and is Sealed Off by the Rear Roller, completing the Planting Process.
This specially designed Bin, that sits on the Line Planter, uses Sprigs to Line Plant the Areas that are needed.
The Soil disturbance by this Machine is very, very minimal and has left Clients very happy with the End Product.
Some of the comments made by clients:
"Best Machine in Australia."
"The Rolls Royce of Line Planters."
Places used:
Adelaide Oval, Shepparton City Council, Rosanna Golf Course, Woodlands Golf Club, Cobram Barooga Golf Club and many other Major Sporting Clubs, several Schools, Councils and Shires.